July 13, 2021
Posted by:

TJAU

Category:

Uncategorized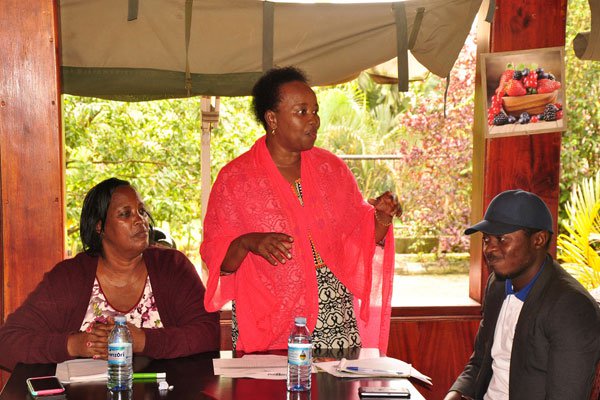 Lack of business information is limiting the growth of Agro-based Small and Medium Enterprises (SMEs) in Fort Portal.
Small scale entrepreneurs gathered in Fort Portal town to discuss their grievances at the invitation of Southern and Eastern African Trade Information and Negotiations Institute (SEATINI) Uganda in partnership with Uganda Small Scale Industries Association recently.
Key concerns raised by the young businesses were lack of certification from Uganda National Bureau of Standards (UNBS).
Mr Francis Tinka, a wine producer from Rwenzori Community Centre Organisation, expressed his interest in supplying wine to supermarkets around the region but lacks certification from UNBS.
Certification with the quality mark, which often is a prerequisite for supplying in supermarkets costs Shs800,000 per product, a price he cannot bear.
Mr Tinka was not aware that UNBS recently reduced the price of certification to Shs125,000.
Honey manufacturers expressed similar concerns arguing that adulterated honey is killing their market.
Challenges in packaging were raised by the manufacturers who said the cost is too high to provide a sufficient profit margin. The wine manufacturers say wine packaging is done from Kampala, increasing their transport costs.
"Sometimes you go there [to Kampala] and they tell you they are not ready so you have to go back again," Ms Christine Abwooli, a wine manufacturer said.
Rice millers in Fort Portal are tormented by the high cost of power which is destroying their machines whenever there are outages.
Ms Faith Nyakairu, a rice miller at Nyakairu and Sons Grain Millers, spends more than Shs1.2m per month with only one machine whose mortars are always getting blown by unstable electricity.
Asked whether she is consuming domestic or commercial power and any knowledge about peak hours, Ms Nyakairu revealed that she had no knowledge of the concepts.
Tax knowledge was also scanty among the cluster whose concerns centered on high taxation and paying for taxes even while they are not making profits.
Asked if any of them has applied for government funding set aside for agri-businesses, the entrepreneurs revealed that they did not know of any scheme.
The knowledge gap problem was clear for SEATINI, Ministry of Finance, and Ministry of Trade who were in Fort Portal to understand challenges faced by the agro-based businesses.
Mr Humphrey Mutaasa, chief executive officer Agripoint Initiatives, informed the business community about the government schemes set up for SMEs such as the Skills Development Facility to equip youth with skills, Agricultural Credit Facility, a fund to provide medium and long-term loans to agribusinesses at a rate of 10 per cent per annum.
Mr Gadson Abemigisha, senior economist at Ministry of Finance, highlighted the importance of registering a business and being tax compliant if the SMEs are to benefit from government initiatives.